Company management of Polimex Bodownictwo Sp. z o.o. Sp.k.
Management Board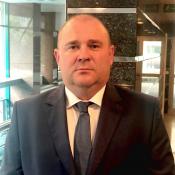 Andrzej Rudolf
Managing Director of Polimex Budownictwo Sp. z o.o. Sp.k.
Andrzej Rudolf is a graduate in the field of Geodesy and Cartography, University of Warmia and Mazury in Olsztyn.
Andrzej Rudolf has extensive managerial experience in working on large construction projects in Poland and abroad.
He has been associated with the Polimex Mostostal Capital Group since 2001. For many years he worked as a manager at foreign contacts of "Polimex-Mostostal", among others in Great Britain, Norway and Russia.
He managed the Z5 Construction Department, the Project Management Department, the Execution Office, and also served as the Segment Director - Industry "Polimex-Mostostal" SA.
He started his professional career at  Geodetic and Cartographic Services GEODESIA and Multi-branch Geodetic Laboratory GEOIDA.
Artur Sawicki
Director of Operations at Polimex Budownictwo Sp. z o.o. Sp. K
Artur Sawicki is a manager experienced in the implementation of diverse construction projects.
Mr Sawicki has been with Polimex Mostostal Capital Group since the beginning of the 1990s. His professional career started in the steel structure plant at Mostostal Siedlce. He co-founded the General Contracting Department at Mostostal Siedlce. He worked at the Construction Plant in Siedlce, in the General Construction segment, in the Industrial Construction Segment and in Polimex Budownictwo Sp. z o.o. sp.k. Within the Capital Group Mr Sawicki's has consecutively held the positions of Project Manager, Director of the Procurement Office, Director of Implementation and Director of Operations.
He studied production engineering at the Warsaw University of Technology.