Company manegement of Infrastruktura Drogowa Sp. z o.o.
Management Board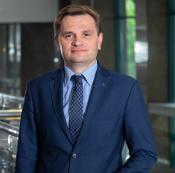 Tomasz Sikora
President of the Board Infrastruktura Drogowa Sp. z o.o.
Tomasz Sikora is a master's degree and civil engineer, specializing in building and engineering constructions. He graduated from the Faculty of Civil Engineering, Architecture and Environmental Engineering at the Poznań University of Technology.
He is a manager with many years of experience in managing large investments in both volume and road construction.
Associated with the Polimex Mostostal Capital Group since September 2012, where he held the position of the Segment Director, Proxy, a member of supervisory boards in subsidiaries.
He gained his professional experience working at senior management positions, among others acting as the President of the Management Board of APRIVIA SA, Director of the Building and Cubic Construction Division at PBG SA, working at STRABAG Sp. z o. o. Budownictwo Ogólne and ENERGOPOL 7 POZNAŃ SA.
Mr. Tomasz Sikora since 2000 has building qualifications without any restrictions to manage construction works in the construction specialty. He is also a member of the Chamber of Civil Engineers.