Company management of Polimex Operator Sp. z o.o.
Management Board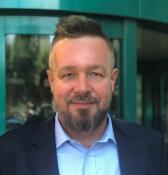 Wojciech Demediuk
President of the Board Polimex Operator Sp. z o.o.
Wojciech Demediuk is a graduate of the Lublin University of Technology, where he obtained a master's degree in engineering at the Faculty of Electrical Engineering.
Wojciech Demediuk is an experienced senior manager. Over the past several years, he successfully managed key areas of business and IT in one of the largest companies in Poland - Orange Polska SA.
He is a specialist in the transformation of large business and IT areas, in defining and implementing strategies,  change management, outsourcing and program management.
He has many years of experience in negotiating large contracts.
Michał Kowalczyk
Wiceprezes Zarządu Polimex Operator Sp. z o.o.
Vice President of the Management Board of Polimex Operator Sp. z o.o.
Mr Michał Kowalczyk received an engineering diploma from the Higher Vocational School in Krosno with a specialization in Mechanics and Machine Design. He is also a graduate of the Rzeszów University of Technology where he earned a master's degree in engineering from the faculty of Production Management and Engineering.
Mr Kowalczyk has been with Polimex Mostostal Capital Group for the last 10 years. He started his professional career in Naftobudowa S.A. in 2009. From 2011 to 2017 he held managerial positions in Polimex Mostostal in the Equipment Base segment.
He has worked in Polimex Operator since the Company was established in 2017. He currently holds a position of a Technical Director.